This is a most ingenious theory.  It is based on the media's hypersensitivity to the so-called black leaders and their pleas against racism.  Everyone knows the story.  A young boy has the job of watching over the community sheep.  Day after day, nothing happens.  One day he decides to have a little fun and see what will happen if he sounds the alarm.  Everyone responds with weapons only to find there is no danger.  The boy does this several more times, and then one day, when the wolf is attacking, the boy cries "Wolf!" and no one comes.  No one believes him, and he and the sheep are killed.
The media cannot mask racism in America, but they can minimize it.  Black leaders are constantly on television, talking about racial issues.  Unfortunately, the media rarely covers real legitimate stories about racial violence, racial profiling, social programs (or the lack thereof), and discrimination.  The media focuses on the "lesser topics," examples from the past, such as Howard Cossell's comments made eons ago when he referred to a professional football player as a "little monkey."  Or Jimmy the Greek, who said blacks were bred to play sports.  Nothing could be more insidious as Al Capanis' statement that blacks do not have the mental capacity to manage.  These were ignorant remarks intended to capitalize on Black America stereotypes, but they reflected some public opinion.  It did not imply that those men were racists, but the media publicized "black leader" rebuttals every five seconds.  If someone thought otherwise, the media attempted to dissuade him or her.  In reality, the media never considered that many black people could care less what those men thought.  The theory lived and was not restricted to only sports commentary.  There is the same hype whenever the confederate flag is flown at a state capital.  The media highlight "black leaders" denouncing this act, even though many black people think other issues are more important.  The  theory's backbone is this: The power structure wants to keep race issues alive.  Serious issue or not, they give the impression that black people always complain. The theory is intertwined with black humor; e.g., the joke about the man holding a brother down, or not being able to get a cab.
After watching the media deal with black issues, it is apparent that this is no rare phenomenon.  For me, the theory started when race issues became fodder for comedy movies, where a black person makes a claim about a race issue, or talks about "the man keeping me down."  Television also wants part of the action.  "Will and Grace," a popular sitcom, aired an episode when Jack, a white male character, discovered that his father was black, and he immediately understood why he could not get a cab.  At the end of the show, he learned his father's last name was Black, so he had no idea why he did not get a cab that day.  Other programs, particularly certain talk shows, televise Klan members fighting with black leaders. The media argues this is done to create dialogue about race.  Jerry Springer once said that Klan members are his guests so people will learn about them.  Does anyone not know about them already?  The reason for their appearance is the Cry Racism Theory, which means that if we constantly talk about the issue, one day, when it really is racism, no one will believe it.  The media created the term "race card," as though race issues are something black people invented.  There are no social disparages related to the amount of melanin in our skin, it is just a figment of our imagination.
The Cry Racism Theory also helps explain issues that are more serious. To keep the race issue alive, talk show guests, particularly white supremacists, might discuss their dislike of blacks.  The theory states that this is an attempt to make good, honest, non-racist people uncomfortable.  The race issue has to be kept alive to support the theory that racism is a figment of black people's imagination.  The term "race card" is a valuable tool created to deflect racial complaints.  Many white and black people get along very well, but the media would rather discuss race issues.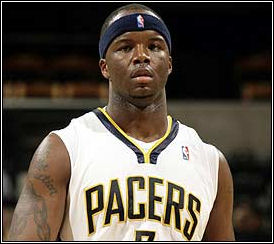 The theory returns to the sports arena, because many visible blacks are athletes.  When Indiana Pacer Jermaine O'Neal said he thought the age limit was racial, the sports drama queens made it look like Mr. O'Neal was calling David Stern a racist.  The conspiracy theorist understood what Mr. O'Neal meant.  He did not mean David Stern is racist.  He meant that the media always criticizes high school basketball players for going directly to the professional ranks, but it is not an issue when Pete Sampras quit high school to play professional tennis, or when baseball players, hockey players, golfers, and gymnasts turn professional when they are eleven or twelve years old.  The theorists quote Larry Bird, who said the NBA needed more white players.  The media did not say he played the race card, but he did have several black leaders on his show to discuss the issue, because it was racial.  Phoenix guard Steve Nash won the 2005 Most Valuable Player award, but no black player said that the choice was racially motivated.  However, Dan Leotard, a white reporter, addressed the race issue.  When he was finished, the media made it look like black players initiated the topic, and the majority of the listening audience questioned why black people always play the race card.
The media is fascinated by racial conflicts.  The police have been accused of physically abusing white people, and several videos of these incidents appeared on the local news.  However, mainstream media does not make it an issue.  However, if a white cop is accused of beating a black citizen, then it becomes a visible issue.  White and black police officers harass white citizens' every day, but it rarely becomes a story.  If a black man rescues a white person, which has happened, it is not reported.  Nor is a white man's rescue of a black man reported unless the rescuer was a firefighter or emergency medical technician.  However, if there is a Klu Klux Klan rally, the media wants the world to know. The media now describes the ethnic makeup of every jury, which was never done until the O.J. Simpson case had a predominately black jury.  Media headlines now read, "Is race an issue in pro sports?"  Although most incidents are borderline racial, the media suggests otherwise.  The media perpetuates the Cry Racism Theory so that when racism does occur, people will say, "There they go again, playing the race card."
The theory also asserts that affirmative action is discriminatory, and the law puts a band-aid on a major scar.  It is sad that anti-discrimination laws must be created in a country that believes all men are created equal.  Unfortunately, the 14th Amendment and The Civil Rights Act of 1964 were required to make discrimination a punishable offense.  However, blacks did not benefit from these laws, capitalist corporations did.  They were granted rights not given most blacks.  It is easy to see why people think these laws give blacks an unfair advantage.  So why do some say this is reverse discrimination?  Is this not using the race card?  The theory asserts that a White Card has existed for four hundred years, with rewards and benefits that have never been equal. This brings the theory back to everyone who benefited from special programs.  Whenever the media focuses on affirmative action, it suggests that blacks and minorities want a hand out.  It ignores the fact that many white people have used special programs for years.  The media wants white America to think these programs treat them unfairly.  The television show "60 Minutes" aired an episode about The University of Texas accepting valedictorians from Texas high schools, which means that other students might not be accepted.  A Hispanic girl was valedictorian at her school, and although her grades were lower than a white student's at another school, the University accepted her, not the white student.  Other minority students had higher grades than the Hispanic student but were not accepted.  Instead of featuring two minority students or two white students, or showing a white person benefiting from the program and a minority student being rejected, the program portrayed the white student as a victim.  Consequently, the viewing audience was told that reverse discrimination had occurred.  Ironically, the selection committee consisted of white people, not black members who denied a white person an opportunity.
  Many times affirmative action programs involve hiring one minority to fill one of several hundred positions, or one minority student being accepted at a school with four thousand white students.  For many years, white students benefited from their White Card.  One must ask, "Did George Bush get into an Ivy League school because of his Rich Card?" Where were the protestors then?  Where are the "black leaders" now?
Many people benefited from special programs for blacks. Therefore, blacks are no more special than other minority who owns a business, such as a donut shop, hotel, convenience store, ethnic restaurant, or a nail salon.  Many times minorities receive special business loans.  The theory states that quotas must be met, and this results in discrimination against blacks.  An employer can hire an Asian, Hispanic, a disabled person, a white women, or Mel Gibson and still meet their quota.  It is possible for an African American to be hired who is not black.  If a white person were born in Africa, then gains American citizenship, they would be an African American.
Because the media portrays blacks as being lazy, many people think special programs are unsuccessful.  However, no one ever confirms the success or failure of the program.  The media portrays someone with a White Card as the victim.  The theory suggests this will ensure that certain people feel good about themselves.  If a black person is uneducated and poor, they could always claim certain actions were due to racism.  However, if a white person is uneducated and poor, they cannot make that claim.  Therefore, the power structure had to give them some excuse.  The theory has this message for black people: The next time someone asks why you use the race card, tell them, "Because others have been using their card for over four hundred years."